We are currently experiencing the extended effects of La Niña. La Niña is defined as the positive phase of the El Niño Southern Oscillation (ENSO) associated with cooler-than-average sea surface temperatures in the central and eastern tropical Pacific Ocean. La Niña is said to impact global climate, disrupting normal weather patterns and can lead to intense storms in some places and droughts in others.
In the Philippines, La Niña often means heavy rains and as a consequence, flooding. According to the "Climate Outlook (January-June 2018)" by the Climate Monitoring and Prediction Section of PAGASA-DOST, "Weak La Niña is present in the Tropical Pacific; may not last beyond March 2018, but varying impacts occur."
Rainfall Forecast:
January 2018 – below normal rainfall over western Luzon while generally near to above normal over Eastern Luzon and most parts of Visayas and Mindanao;
February 2018 – generally near to above normal rainfall with some patches of below normal rainfall over Ilocos area; Visayas and Mindanao, generally above normal rainfall;
March 2018 – below normal rainfall over western Luzon while generally near to above normal over Eastern Luzon and most parts of Visayas and Mindanao;
April 2018 – generally below normal over most parts of Luzon (except western Luzon); the rest of the country will likely experience near normal rainfall conditions.
May 2018 – generally near to above normal rainfall;
June 2018 – near normal rainfall over major parts of the country, while below normal rainfall conditions will be likely over northern Luzon.
Generally, near average to slightly warmer than average surface temperature is expected over the coming months over most parts; slightly cooler than average over the mountainous areas in Luzon in January-March 2018; cold surges may occur in December to February 2018.
2 to 5 tropical cyclones may develop or enter the Philippine Area of Responsibility (PAR) from January – June 2018.
Weekly ENSO monitoring is available at: http://www.pagasa.dost.gov.ph/index.php/climate/climate-prediction/el-ninosouthern-oscillation-enso-status
Outlook for the West Garden:
Construction work took place around the western side of the garden in October-November 2017. We started mulching and building rain gardens, paths and plant beds in the effort to get as many crops growing as quickly as possible and to control flooding from storm water run-off in the area.
Forage is one of the most important crops we planted. We don't have enough forage for the animals and would like 2018 to be the year when we would grow and double our production. Some of our current forage crops are: desmodium rensonii, indigofera zollingeriana, trichantera gigantea (madre de agua), and mini water cabbage.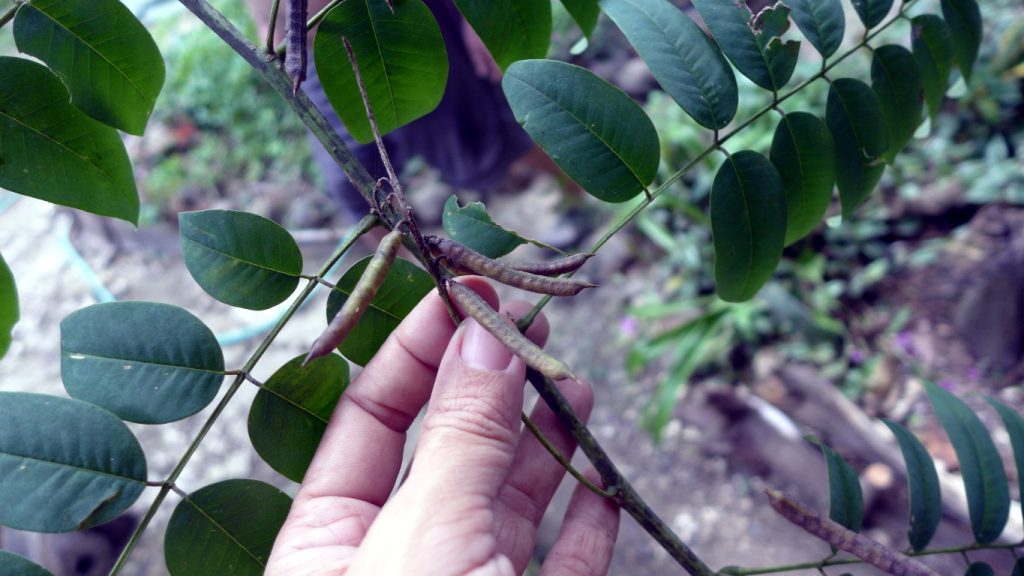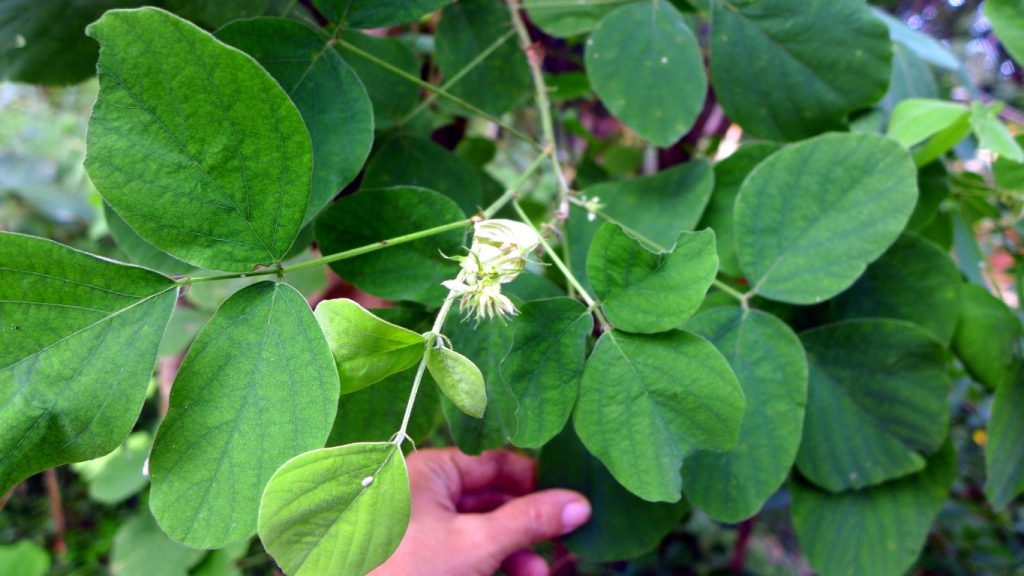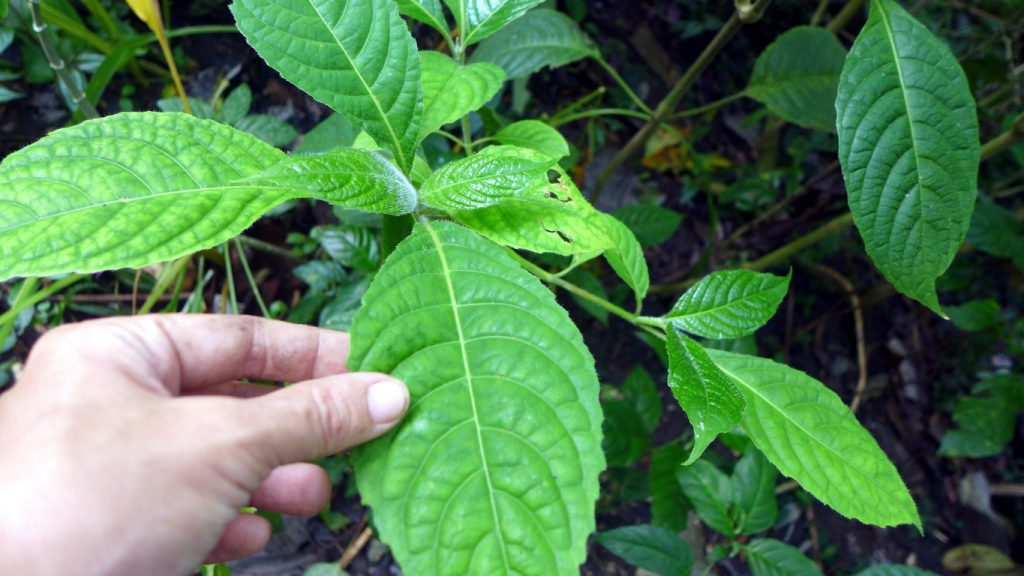 Growing but not thriving well are: ipil-ipil, madrecacao, mani-manian, malunggay and water hyacinth.
Failed to survive are: stylo.
We are looking for seeds/cuttings/seedlings of the following: napier grass, mulberry, mara mais, stylo, azolla.
Forage and roughage for pigs and goats also come from the following: various fruit trees such as papaya, langka, banana, coconut, gmelina, mahogany, tiesa, tambis, balimbing; various green leafy vegetables such as amaranth, camote (leaves), kangkong, saluyot, alugbati, casava (leaves), talinum; and various grasses such as carabao grass, paragis, mimosa, busikad, etc.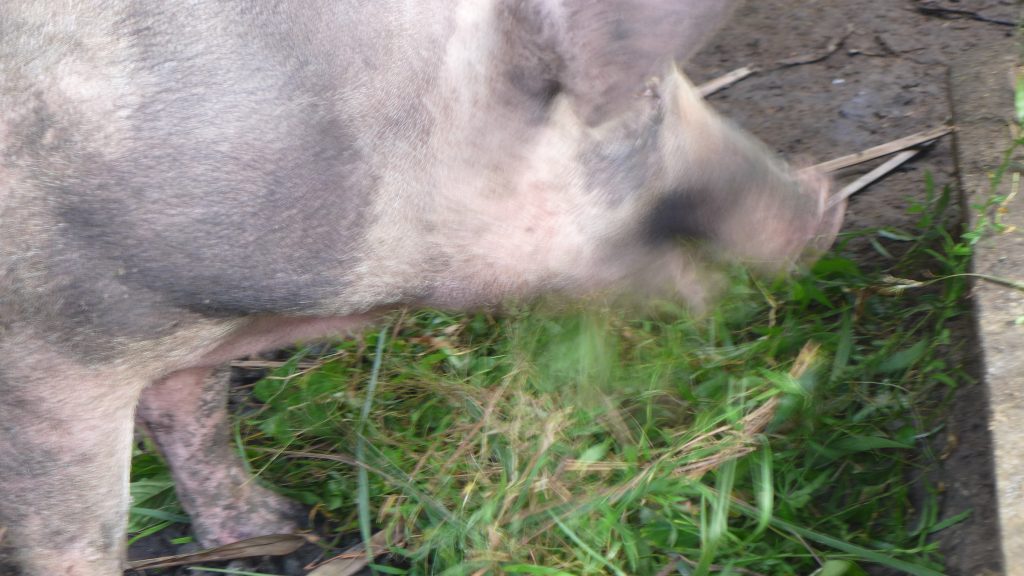 Ornamental plants that are trimmed also provide some forage but only in small quantities since some are considered mildly toxic: San Francisco plant (croton), various cultivars of canna, Fortune plant (dracaena), ornamental palms, ferns, wandering jew, lantana, duranta etc.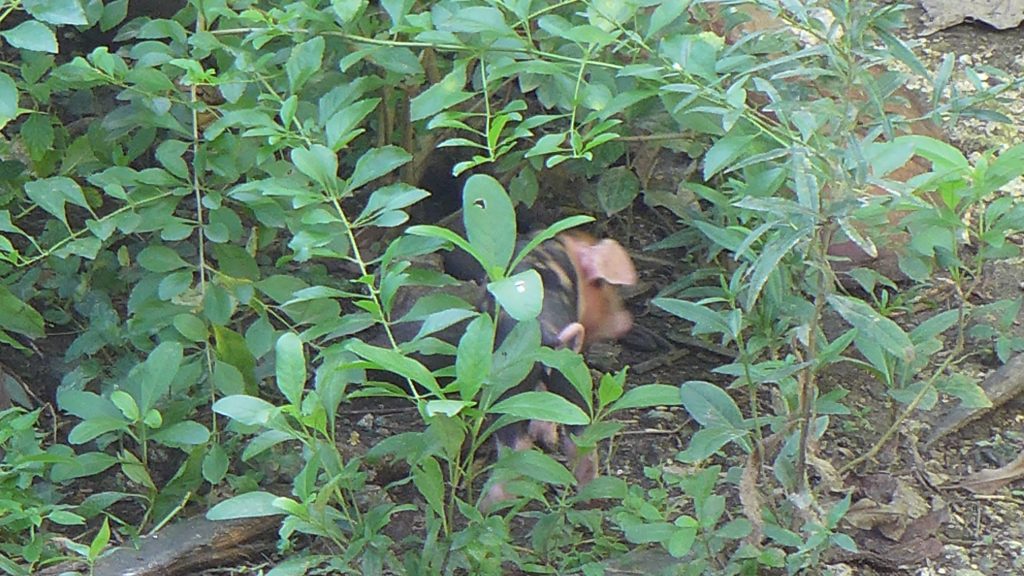 La Niña does not deter us from developing the west garden. We have planted forage crops in and around the area. Normally, the rainy/wet season is also good vegetable planting season in the Philippines because this eliminates the need for artificial irrigation. However, tropical vegetable production experts note that the rainy season also means high humidity amidst high temperatures conducive to the proliferation of pests and disease. This is where disease and pest-resistant crops are valuable and topping the list of recommended plants are those with edible foliage and shoots.
Recommended Vegetables for the Rainy/Wet Season:
Rooted taro, kangkong (water spinach) and camote (sweet potato) are easier to grow in wet and flood prone areas. The red and green varieties of taro we planted in the newly dug up rain gardens are doing well.
Okra, eggplant, beans, chili, corn/maize, squash and some gourds are known to thrive in wet conditions. However, they need to be planted in raised beds so they are protected from flooding. When seedlings have established at about 1-2 weeks, mulching needs to be done all around the seedlings in order to protect them from the battering downpour of rain. We have lost many young sprouts to heavy pouring rain, unfortunately, so we are also planting seeds in the beds where mulch have already been applied. The surrounding mulch protect some of the seedlings. Planting under a tree or bush also helps, as long as the area does not get flooded.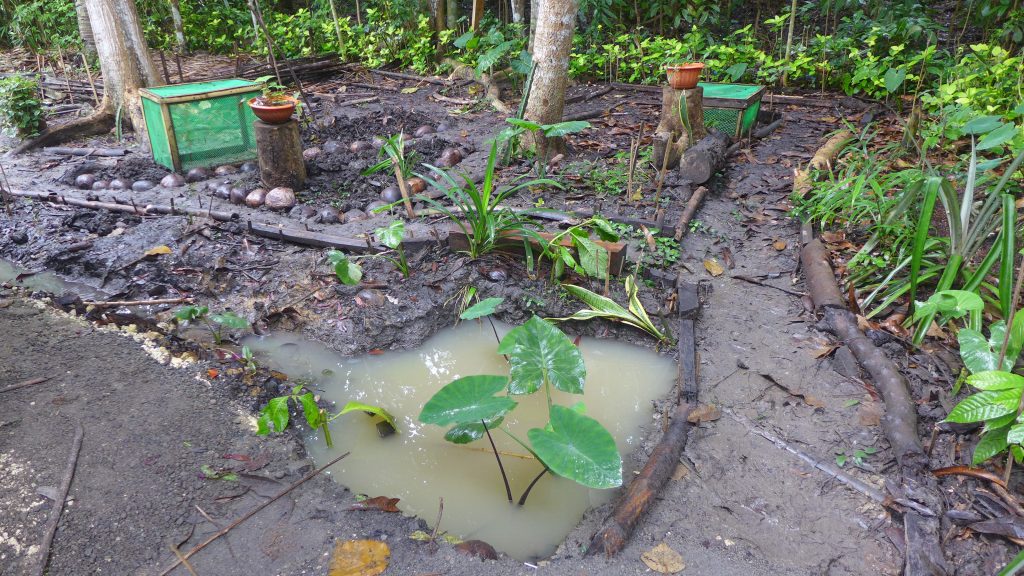 Toxic Plants and Weeds
Although many plants are toxic in various ways, we try not to allow those with high toxicity to colonise the garden, particularly the weeds. While animals avoid eating plants that are toxic, we also try to identify which plants may be toxic and avoid giving those to the animals. Toxic plants we currently have are Estrella, Sinkamas (seeds are toxic), Sagilala (San Francisco/Croton), Red Ginger, Lantana, Katakataka (linked to some cattle poisoning), Buddha Belly Plant (ginseng in Tagalog), Cat's Whiskers (Balbas Pusa), Castor Oil Plant (Tangantangan), Bangkok Kalachuchi (leaves and flowers are toxic to goats and cattle), Plumeria.
Estrella (above) contains a toxic alkaloid, isotomine that can cause muscle paralysis and affect cardio-respiratory functions.
Protecting Plants from Chickens and Ducks
Chickens and ducks love foraging after a downpour. The earth is soft and is easy to dig up as chickens and ducks search for bugs, earthworms, seeds and seedlings. Even if the fowls are sufficiently fed, they still want to go around and forage, especially the chickens. Below are some of the methods we are implementing, hoping to duck and chicken-proof the garden. Admittedly, we are not always very successful but some plants do manage to grow this way.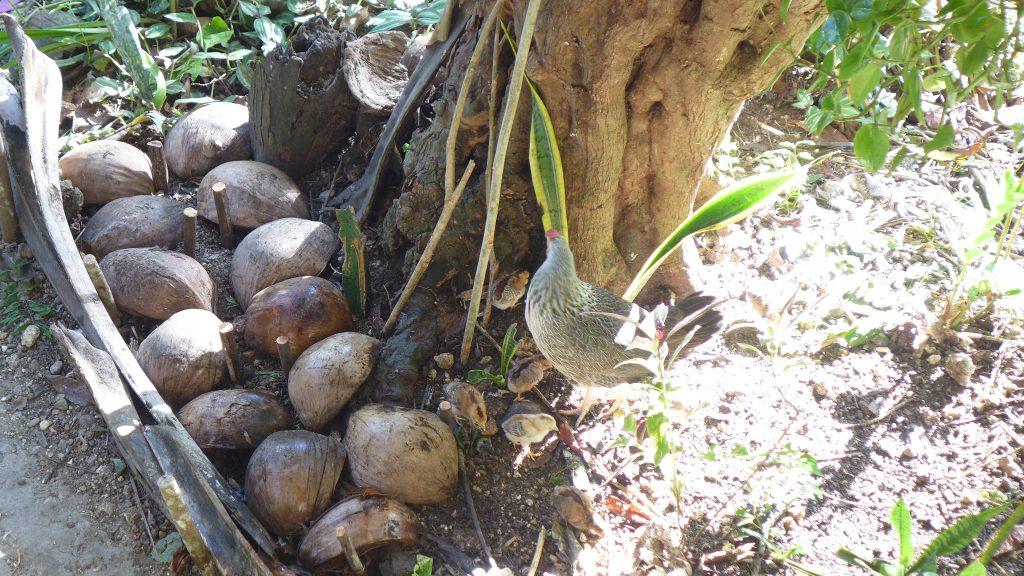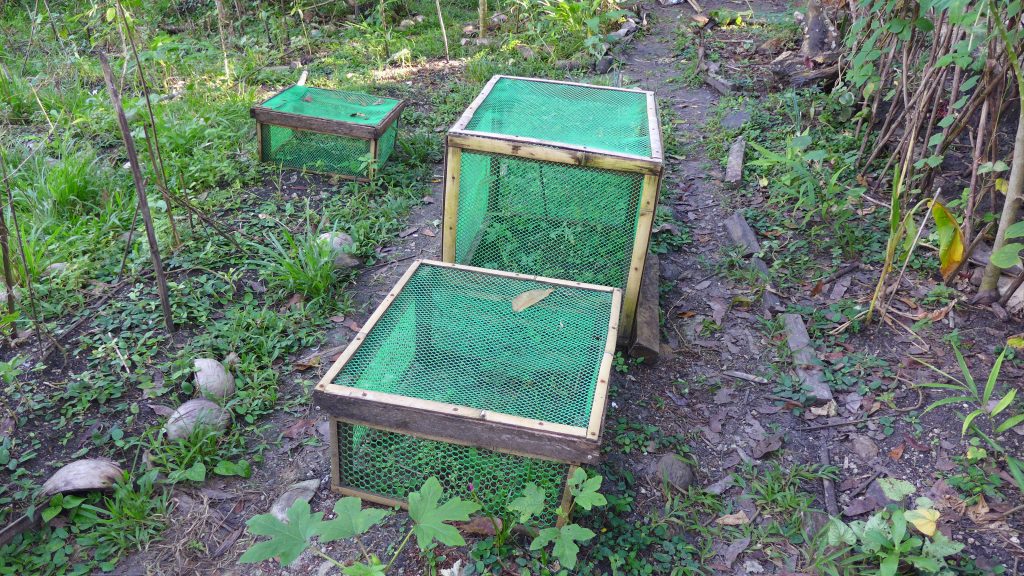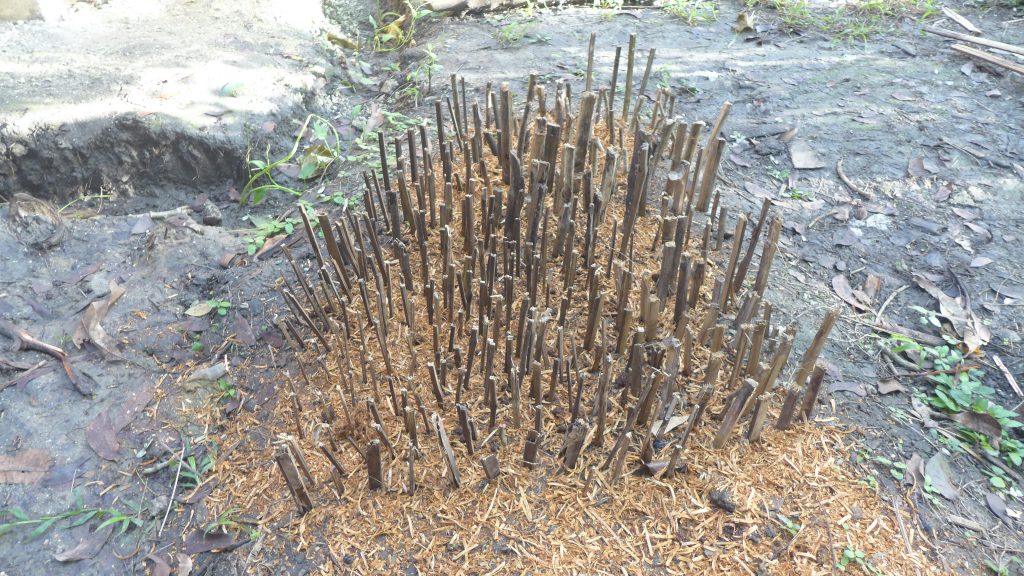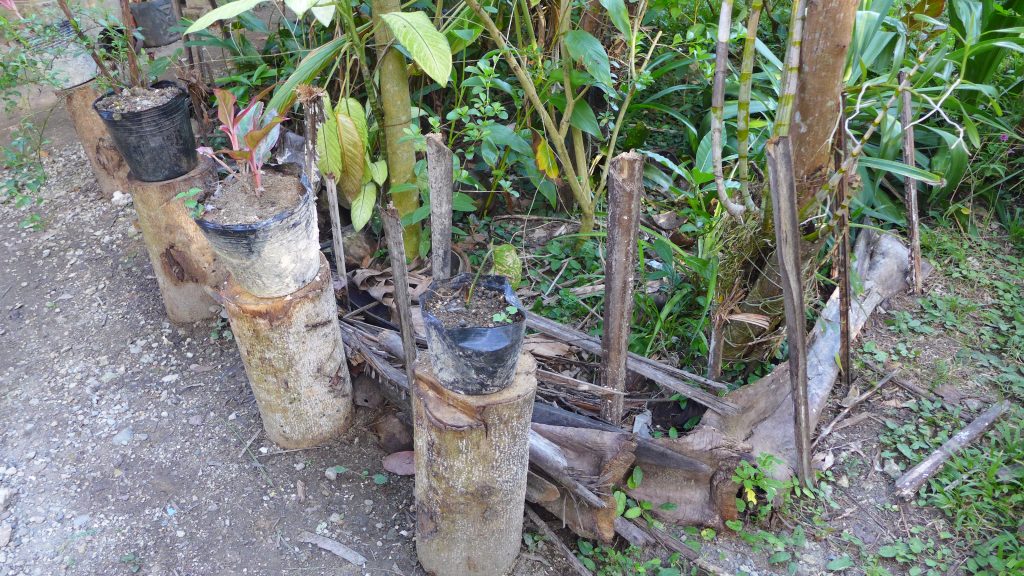 It has been two months since we started work in the west garden amidst the effects of La Niña. Work continues to minimise the effects of flooding and hopefully, get plants to grow and get established before what might be a long season of drought in the near future.