I found this Pork Masala Fry recipe by Alittlebitofspice.com and consider it an excellent way of cooking delicious dry meat curry. I was especially looking for a recipe that used turmeric. The method used in the recipe is "twice-cooked", that is, the meat is cooked to marinate and become tender, then it is cooked again in the fragrant herbs and spices. The recipe can also be used to make non-meat curry fry dishes. I am imagining this would be excellent with potatoes, lentils or chickpeas, or vegetables such as cauliflower, string beans and carrots instead of pork.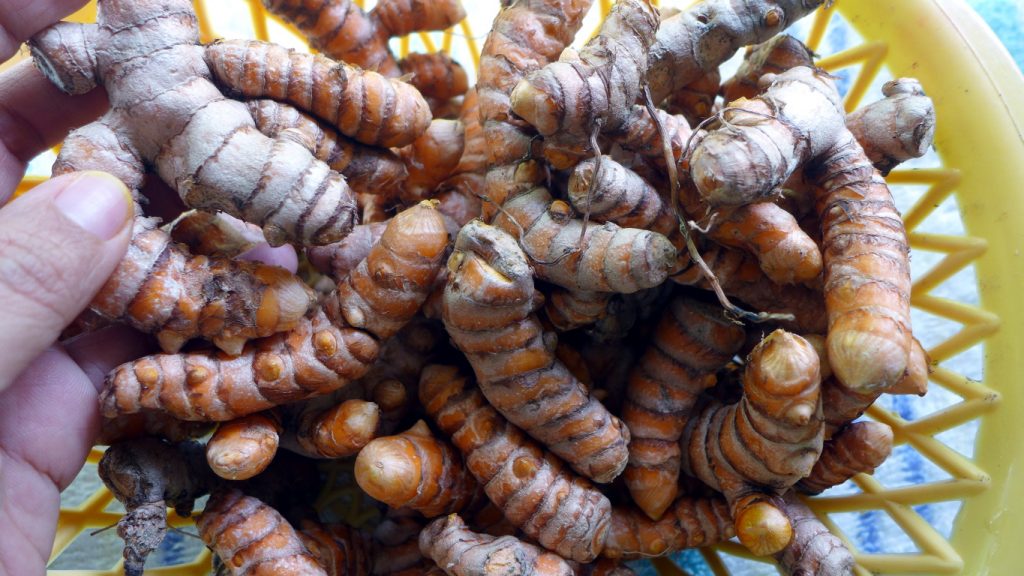 Below is my variation of the recipe. I used ingredients that are available in the kitchen.  Substitutions I made are McCormick curry powder (red) and McCormick curry spice blend (yellow) for garam masala; Lekker Bekkie Mango Chutney, marjoram and cinnamon for coriander powder and curry leaves; and coconut cream for small size coconut pieces / grated coconut. Other good substitute ingredients may be fresh lemongrass, thyme, sage, cumin, Chinese 5-spice Powder, nutmeg, basil and fresh kaffir lime leaves. Key ingredients that cannot be substituted are ginger and turmeric. It is the taste and aroma of these roots that give this pork dish its distinct flavour, reminding of the weeks we have stayed in Kerala many years ago.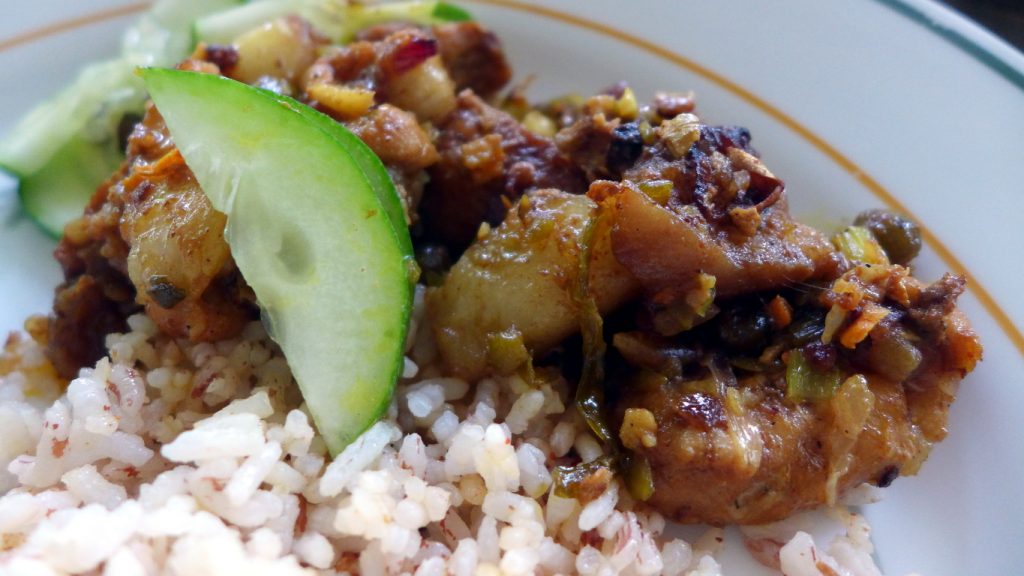 I think that key to the success of this type of dish is to make sure that the pork is tender and to sauté the masala and pork very well until nearly dry, thereafter using the coconut milk to deglaze the pan and extract the flavours of the herbs and spices. You must be patient in cooking the pork to tenderness, and you must never hurry in sautéing.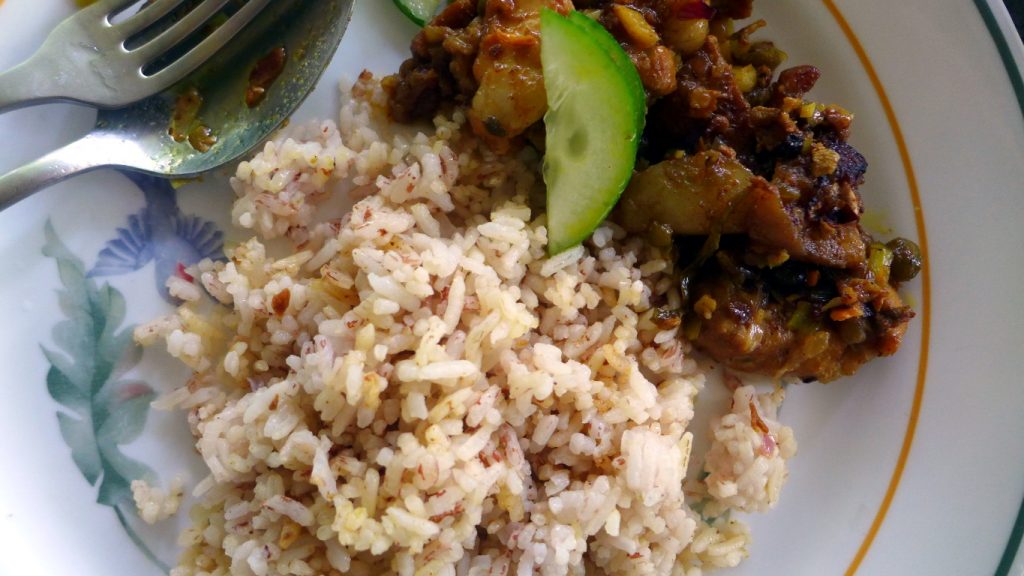 Pork Curry Fry
Ingredients:
1 kg pork (fat and meat) cut into cubes
Marinade: 1/2 inch turmeric root chopped finely
1 tsp Red chili powder
1 tsp Spanish paprika powder
1/2 inch ginger root chopped finely
1 tsp Black peppercorns, crushed
1 tsp salt
1/2 cup green peas in water (if using dry green peas, soak in water overnight)
Combine pork with marinade. Add 2 tbsp water.
Transfer to a heavy-bottom pot and cook over medium heat until done. Add 1 cup green peas and 1 tbsp water, cover and cook until meat and peas are tender. Cooking may take anywhere between 20-40 minutes depending on the pork. Drain excess oil and set aside.
Prepare masala ingredients as follows:
Coconut oil for cooking (or use oil from pork above)
1 cup finely chopped red onions
1/2 inch turmeric root chopped finely
1/2 inch ginger root chopped finely
2 cloves of garlic crushed and chopped finely
1 1/2 tsp Garam masala (or substitute with 1 tsp curry powder (red color) 1/2 tsp curry spice blend (yellow color))
1 tsp chili powder
4 tsp coriander powder (or substitute with Lekker Bekkie Mango Chutney or other herbs and spices such as 1/4 tsp cinnamon, 1/4 tsp marjoram or 1/2 tsp Chinese 5-spice powder)
Salt to taste
1/4 cup coconut milk
Heat oil in a pan and fry the red onions until brown.
Add the turmeric, ginger, garlic and sauté until fragrant.
Add garam masala, chili powder and coriander powder (or substitute ingredients) and sauté well.
Add the pork. Add salt to taste. Cook over low heat, stirring occasionally, until nearly dry.
Add coconut milk and cook for 5-10 more minutes.
Serve hot with rice!