We had two farrowings in December 2016. Sow Number 1 (second parity) and gilt Number 3 (first parity). Number 3 gave birth to 4 piglets on the evening of December 25. Number 1 gave birth to 11 piglets on the evening of December 30.
Both Number 3 and Number 1 were serviced through artificial insemination by Ogie from Corella. It costs PhP1,500 per AI. Number 3 was inseminated with a Large White boar while Number 1 was inseminated with a mixed Pietrain boar.
Number 3 had only 4 piglets so they were exceptionally large, she had a bit of a hard time delivering them (roughly 30 minutes between each piglet). She successfully reared all of her 4 piglets without supervision, no crushing incidents. The piglets – 3 males and 1 female – were sold at weaning age of 6 weeks for PhP2,500 each. The males were castrated by Bebe at PhP50 each.We prefer not to castrate the piglets but buyers insist on buying only castrated male piglets. Because of this, we have opted to keep 1 or 2 males from a litter to keep for ourselves, un-castrated.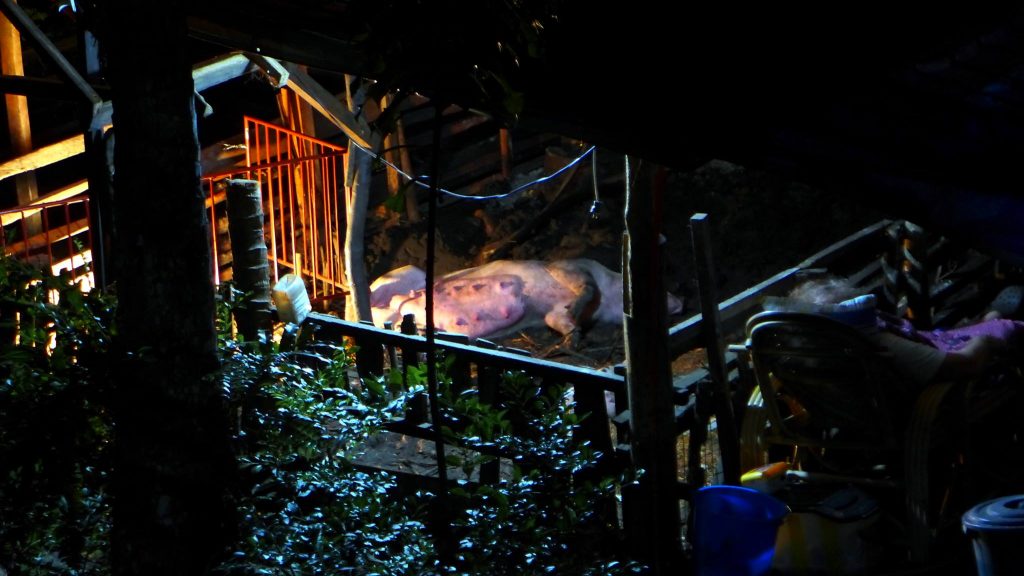 Number 1 crushed 4 of her 11 piglets. She also had enormous troubles farrowing, perhaps a kind of sow hysteria. We kept the piglets away from her throughout farrowing until she was able to relax and lie down to allow the piglets to suckle. The piglets were sold at weaning age of 6 weeks for PhP2,500 each (actually, buyers keep asking for discounts so we sold the piglets for PhP2,400 each and the runt sold for PhP2,000).
Overall, we consider the 2 farrowings a success, with a total of 11 piglets raised with no problems. Their tails and teeth were not cut, they were not injected with any vitamins, supplements or antibiotics. For iron supplement, which can be critical in some cases, I use instant iron drops instead of injections. We decide on much less intervention during farrowing next time.