Currently practising making sausages again, getting ready for Christmas! Here are three sausage recipes that I've tried and tested and would like to share with you. These sausages use either natural hog casing or collagen casings. These are fresh sausages that don't use artificial preservatives, nitrites (prague powder) or phosphates (accord powder). Instead, the sausages are mildly preserved using coconut vinegar or anisado wine (such as Green Perico available here in Bohol) or bread (which ferments with the meat). In all cases, the sausages are considered fresh and therefore hung to let the casing strengthen a bit only for a short period of time (2 hours in ambient tropical temperatures of 25 to 32 decrees Celsius; sausages containing salitre, saltpeter or prague powder may be hung to dry for 2-3 days). Then the sausages are stored in the freezer where they can keep for longer: 3 months frozen uncooked, 4-5 days in the refrigerator uncooked.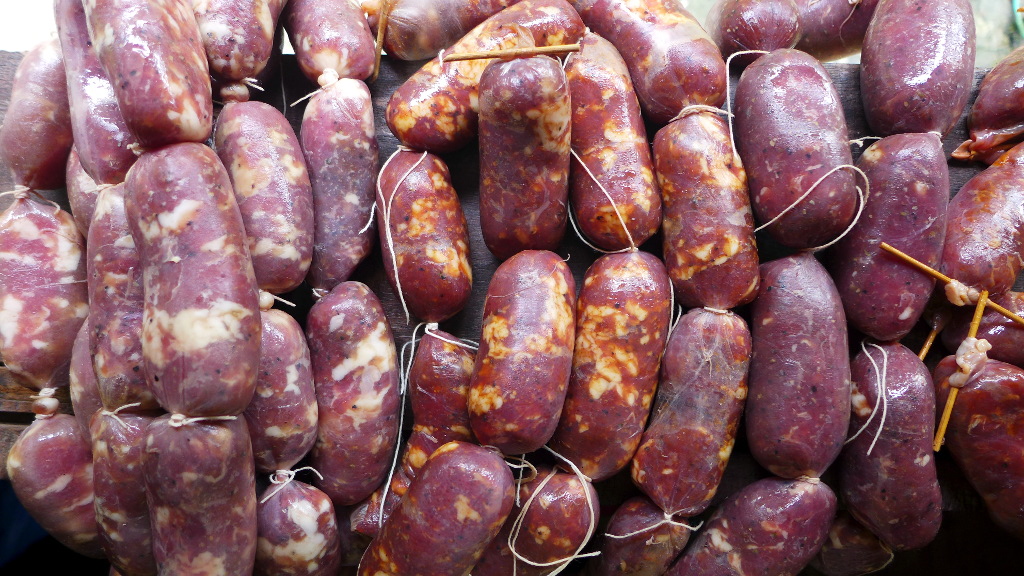 SWEET LONGGANISA (Mildly Sweet Sausages)
1 kilo ground pork with fat about 30%
2 tbsp Soy Sauce
2 tbsp vinegar
2 tbsp Anisado wine
1/2 cup brown sugar
1 tbsp coarse sea salt
1/2 cup garlic, minced
2 tsp freshly crushed black peppercorns
2 tsp Spanish paprika or smoked paprika powder
Hog casing or collagen casing and butcher's twine/string for tying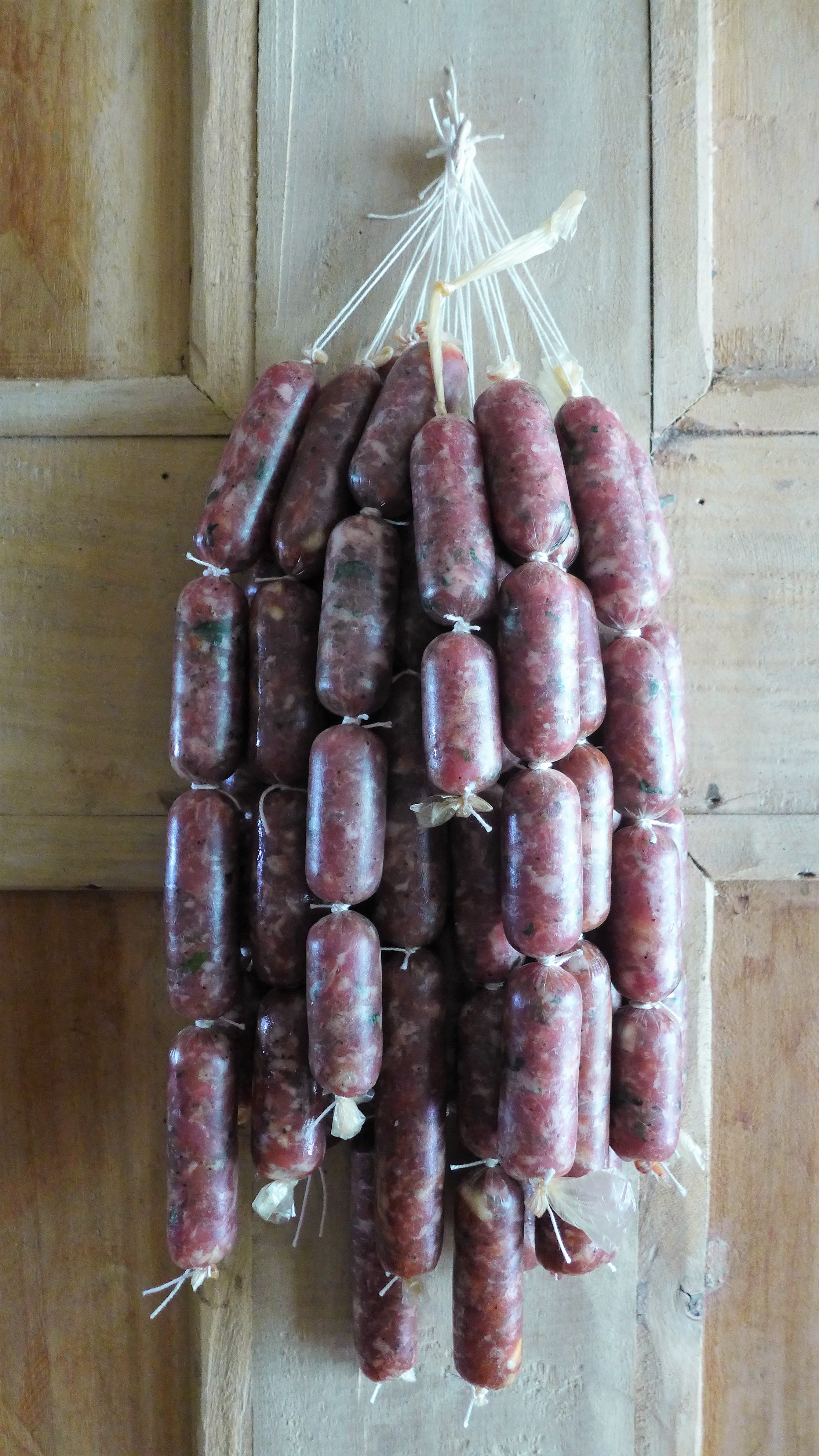 LUCBAN LONGGANISA (Oregano Spiced Sausages)
1 kilo ground pork with 30% fat
1 tbsp coarse sea salt
1 1/2 tbsp dry oregano leaves, ground
1 1/2 tbsp dry basil leaves, ground
1 tsp dry laurel leaves, ground
1 1/2 tbsp Spanish paprika powder or smoked paprika powder
1 tbsp freshly crushed black peppercorns
1 tbsp vinegar
Hog casing or collagen casing and butcher's twine/string for tying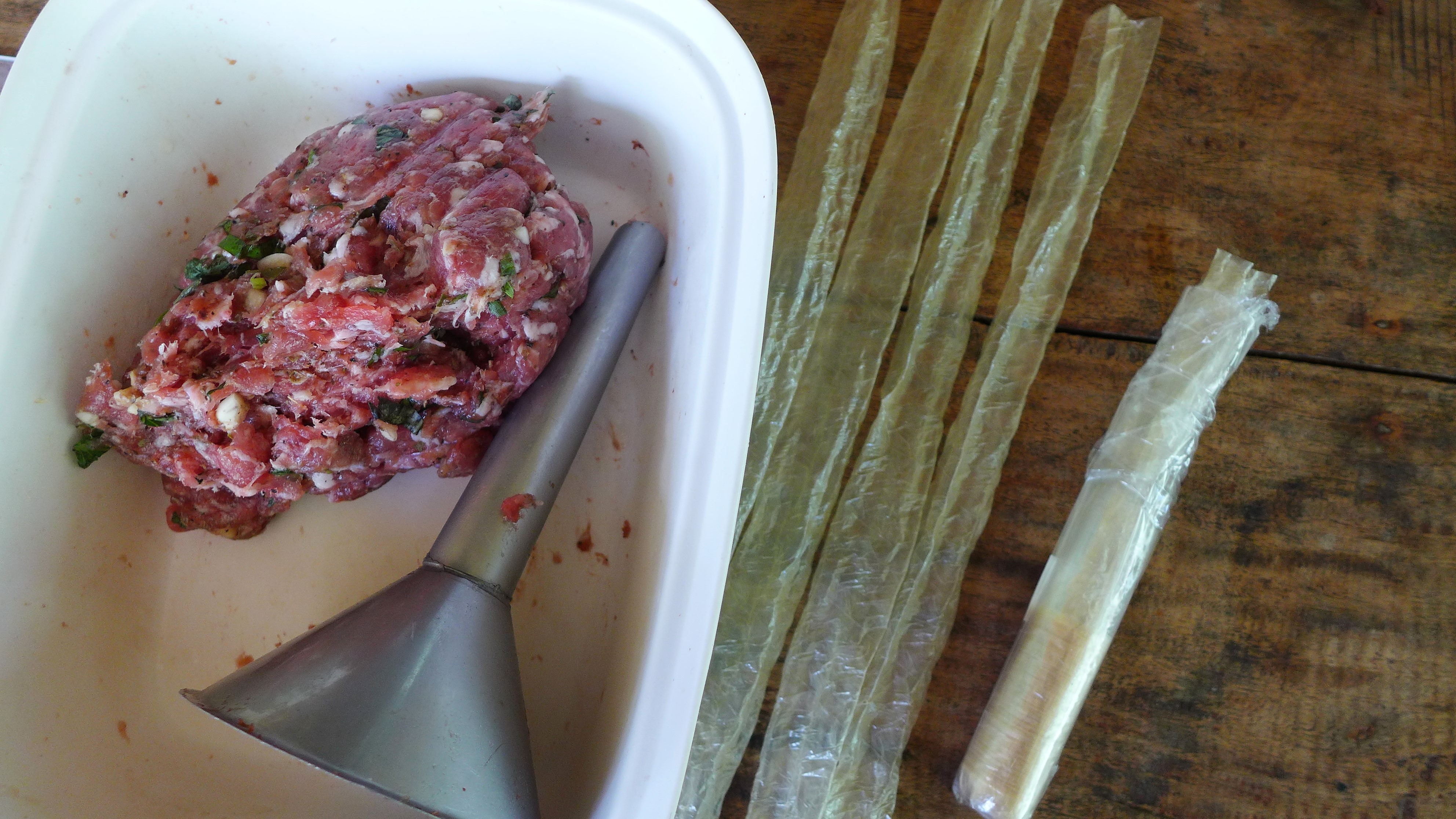 ENGLISH SPICED SAUSAGES
1/2 kg ground pork with 30% fat
50 grams breadcrumbs
1 onion, grated or finely chopped
1/2 lemon rind, grated
1/2 nutmeg, grated or 1 tsp nutmeg powder
1 tbsp chopped parsley
1 tbsp thyme
1 tbsp sage
1 tbsp fennel seed or dry coriander seeds
1/2 tbsp coarse sea salt
1/2 tbsp ground white pepper
2 eggs, beaten
Hog casing or collagen casing and butcher's twine/string for tying
GENERAL INSTRUCTIONS
Combine all ingredients together in a large bowl. Mix thoroughly with your hands.
Cover and put in the refrigerator to allow the meat and spices to marry and to firm up for 2-4 hours or overnight.
Before stuffing sausages, you may wish to test the taste of the sausage mixture. Get a small amount and shape into a patty and fry in oil. Adjust seasoning as needed.
Prepare and clean fresh hog casings, soak in a bowl of cold water. If using collagen casings, read the instructions on use. Generally, collagen casings are used dry and should not be soaked in water.
Keep a bowl or pitcher of cold water nearby for rinsing sticky hands. Start stuffing the casings with the cold meat mixture. It is easier to stuff sausages when the mixture is cold. Use sausage stuffing machine or sausage stuffer (funnel).
If not using casing, you can also roll the meat mixture into balls or shape them into patties or for making "skinless sausages". Use wax paper or plastic food wrap to prevent patties or skinless sausages from sticking to each other. Keep cold or frozen or cook immediately.
Carefully but firmly tie sausages in desired intervals. Prick sausages with a clean pin or cocktail stick to remove air bubbles. Hang up to dry and strengthen the casing for 2 hours. Sausages may be cooked immediately. Keep in the refrigerator uncooked for 4-5 days or frozen for up to 3 months.
COOKING SAUSAGES
To cook English Spiced Sausages, dip in beaten egg white then dust with small amount of flour. Cook in small amount of oil, 5-6 minutes on each side for 24mm sausages; cook longer for thicker sausages. Serve immediately.
To cook longganisa, hang the sausage to allow to warm up to room temperature. On very low heat, put 2 tbsp water in a frying pan and the sausages. Keep on LOW HEAT so the sausages will not burst and you will not need to prick the sausages. Depending on the thickness of the sausages, for 24mm sausages, cook for 5 minutes on one side, turn over and cook for 5 minutes on the other side. Add 1 tbsp oil and cook on each side for 3-5 minutes more until brown. Serve immediately.
Alternatively, you can poach the sausages before frying. Prepare a saucepan with water and on medium heat. When water is HOT BUT NOT BOILING, put the sausages in. Cook for 5-8 minutes. DO NOT BOIL or the sausages will burst. Bring out the sausages and finish off by frying in a small amount of oil over medium heat on each side until lightly brown. Serve immediately.