After successfully making a coffee cake that requires no baking and the ingredients do not include eggs or dairy, I made an experiment this time using cranberries and peanuts instead of coffee. Here is my version of The Cranberry Nut Cake. 🙂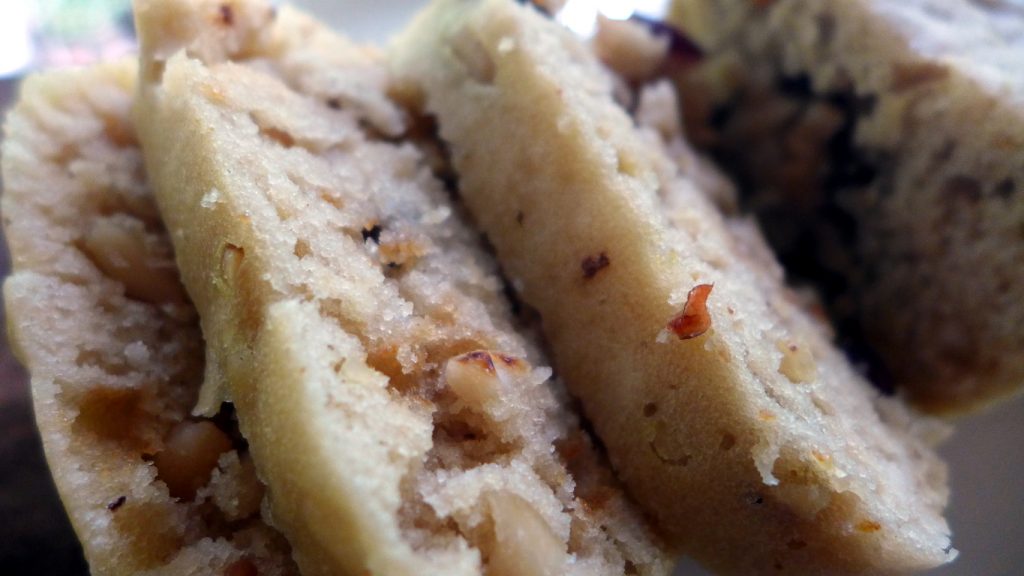 Cranberry Nut Cake by Fats
(No bake, no eggs, no milk, no butter)
Ingredients:
1 1/2 cups all-purpose flour
1 tsp baking soda
1/8 tsp baking powder
1/4 tsp salt
3/4 cup brown sugar
1/2 tbsp vanilla
1 tbsp lemon juice or vinegar
1/4 cup coconut oil or olive oil
1 cup water
1/2 cup chopped roasted greaseless peanuts (or cashew nuts)
1 cup chopped dried cranberries (or 1/2 cup chopped dried  cranberries and 1/2 cup chopped raisins)
Recipe makes two 6″ loaf pan-size cakes.
Directions:
In a bowl, sift together flour, baking soda, baking powder and salt. Set aside.
In another bowl, combine vanilla, lemon juice or vinegar, coconut oil or olive oil and water. Add brown sugar and mix well until thoroughly dissolved.
Add wet ingredients to dry ingredients and mix, but do not mix too much or the cake will be stodgy and will not rise well. Fold in peanuts and cranberries.
Pour in non-stick loaf pan, filling only half to allow room for expansion. Cover with aluminum foil.
Steam for 30 minutes. To test if done, prick with fork in the center of the cake – prick all the way through. If the fork comes out clean your cake is ready. Otherwise, steam for 5 more minutes.
Remove cake from steamer, uncover foil to allow cake to "breathe" and cool down a bit before removing from loaf pan. Cake also tastes great when chilled. Enjoy! 🙂
Note: I have problems with dairy and thus, made this recipe. You may use almond or soy milk. However, I wouldn't recommend those because they are highly processed food products (look at the ingredients list on the label). However, recently, I learned about A1 and A2 milk. It seems that my problems with dairy is limited to A1 type milk from cows. I experience no problems with A2 milk and thus now use such milk. Our A2 milk comes from the carabaos (water buffalos) in Ubay, Bohol.