April 7, 2020 in San Roque, Baclayon, Bohol —- We finally did it! Our butcher Yokyok and his assistant Noel came at 7 in the morning. This was Jenny's pig. Jenny is our next-next-door neighbour. I bought her pig and asked Yokyok and Noel to butcher. I took the meat we need and shared the rest with people in our village. It is very good meat, amazing red colour because Jenny fed the pig banana stalks, scrap fruits and vegetables from the market, kangkong, kamote leaves, and various forage.
I gave the pig's head, blood and internal organs to Penny. She used those to make a fantastic blood stew for sharing with neighbours. Her husband, Bebe, cooked the head into cracklings, soup and other such things and shared as well. I asked Noel to share meat with people up the hill. Plenty of people, uphill and downhill, benefited from one pig. Imagine so much meat from just one pig. Although our village is transitioning to urban ways, I hope that we will never be prevented from raising our own food. Having a pig or goat, chickens, ducks or a cow should continue to be a way of life here. For us, this is better than buying food from Magnolia or Ligo or Purefoods or San Miguel. Money spent on buying our food stays within our community instead of going to someone who doesn't know or care about the way we live. Why buy from a big company just so their CEO can go yachting or buy another ski resort?
This is more fun too. Today was also like fiesta except that there was social distancing and Penny and Noel wore a mask when they distributed the meat and meals. Well, this is the closest we can get to fiesta since all fiesta celebration is cancelled now.
Jenny is not rich. There are 3 families in their little un-finished house, there are 9 children in total and a new baby coming next month. The men in the family are small-scale fishermen. But Jenny can raise pigs in their backyard, feed them vegetable and fruit scraps from the market and forage from the surroundings. She still has 2 more pigs. They were intended for sale during fiesta when demand is high. But there will be no fiesta because of COVID-19.
Backyard pig raisers are having a hard time for several years and now COVID-19 has made things worse. Fiesta celebrations are cancelled because of COVID-19. No more school graduation parties either. In both, pork and roast suckling pig are mandatory. So pig raisers are stuck with fatteners that should be ready for slaughter in March-May. Also, the live weight price has gone down 90 pesos/1.78US$ per kilo from the usual peak season price of 130 pesos/2.57US$ per kilo. The price of pork remains high at 240 pesos/4.75US$ per kilo. So buying the whole pig is actually cheaper.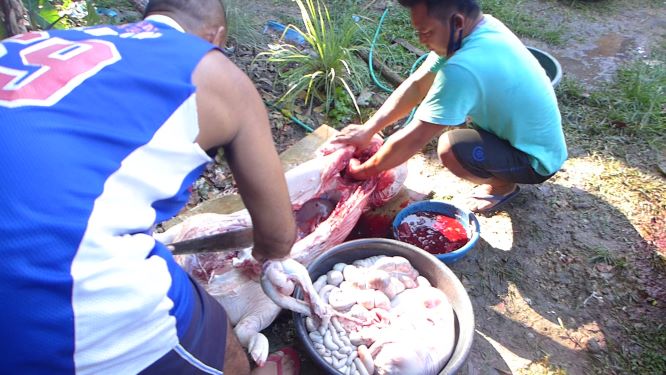 But Jenny's system is a closed-loop that benefits her and the people around her. It is efficient, low-cost and nothing goes to waste. It may not be pastured pigs but it is a far cry from factory food. The pigpens are homemade from wood gathered from the hills. The butcher slaughters in situ so the pig is not subjected to the stress of transport. The pig is slaughtered very quickly, there is no squealing. The backyard plants are mostly banana, taro, kangkong, sweet potato, coconut. All these plants are human edible, animal edible, and the non human edible parts of the plants, such as banana trunks and leaves are fed to the pigs. The pigs were purchased as weanlings from a more rural municipality 2 hours away where they are cheaper. Transport of pigs are limited now because of COVID-19 (and ASF). There are local breeders (like us) but we are more expensive because we are closer to the city (only 8 kms to heart of the city). I sell piglets at prevailing price but add more value by selling fully weaned piglets weighing 15-25kg, free consultation and medicine if piglets get sick or need castrating (we offer free castrating if buyer wants to castrate).
Our piglets cost 2,800 pesos/55.56 USD and the cheaper piglets cost 1,200 pesos/23.81 USD. While ours weigh a minimum of 15kg, the cheaper piglets weigh a minimum of 8kg.
I know the pigs are kept in not very ideal conditions. This is a low income family with small space (about 500 sq meters). Men in this family are small-time fisherfolk and they don't even own their boats. Land rights and ownership is an issue in places like ours because of the drastic policies made during many colonial periods (from16th century to early 20th century), taking vast tracts of land away from people. Our own property is not so big either (only about 2000 square meters). There are larger parcels of land around us that are being converted from agricultural to residential and being subdivided. City life is quickly creeping up on us. But I am documenting how important it is that we remain able to raise our own food and make the case to local government before it is too late.
Life of urban poor is much worse because they can't grow or raise their own food. This is luxury compared to urban poor.
Nonetheless, most backyard pigs kept here are friendly. They are not afraid of approaching strangers. This means they are well looked after by the family.
I also try to encourage people to give their pigs more space, allow the pigs to socialise, and express their natural behaviours. Our backyard farm serves as example when people come and visit. But I also continue to yearn for more space to pasture some (native) pigs. I hope in the near future.