Greetings, my ducks! ? It's a weekend and we had a duck selected for weekend meal and here it is! I recorded a video of my amazing butchering skills but decided not to post it here — at least not for now. ? Maybe later! But you can see in the photos the dressed duck (thanks to the great skills of our lady butcher, Terry), and then me butchering the duck, then the finished product – duck meat, liver and heart on one side and the bones and trims on the other side.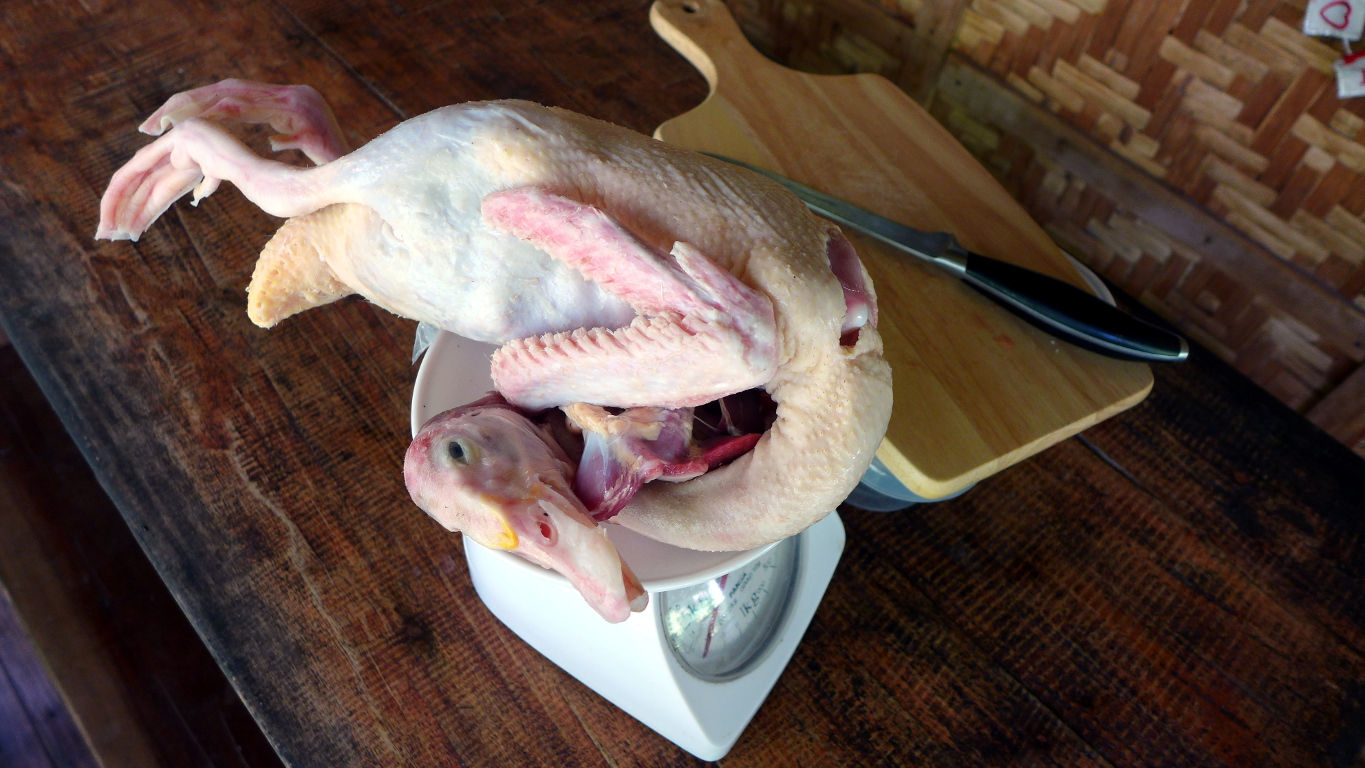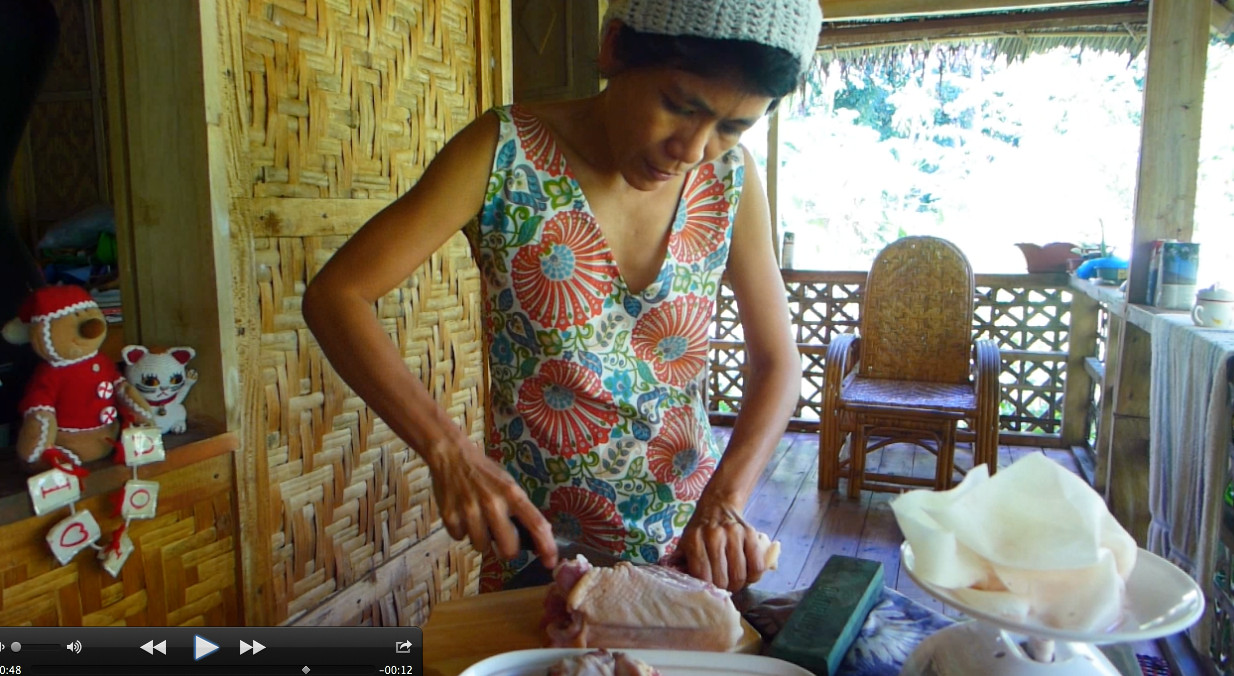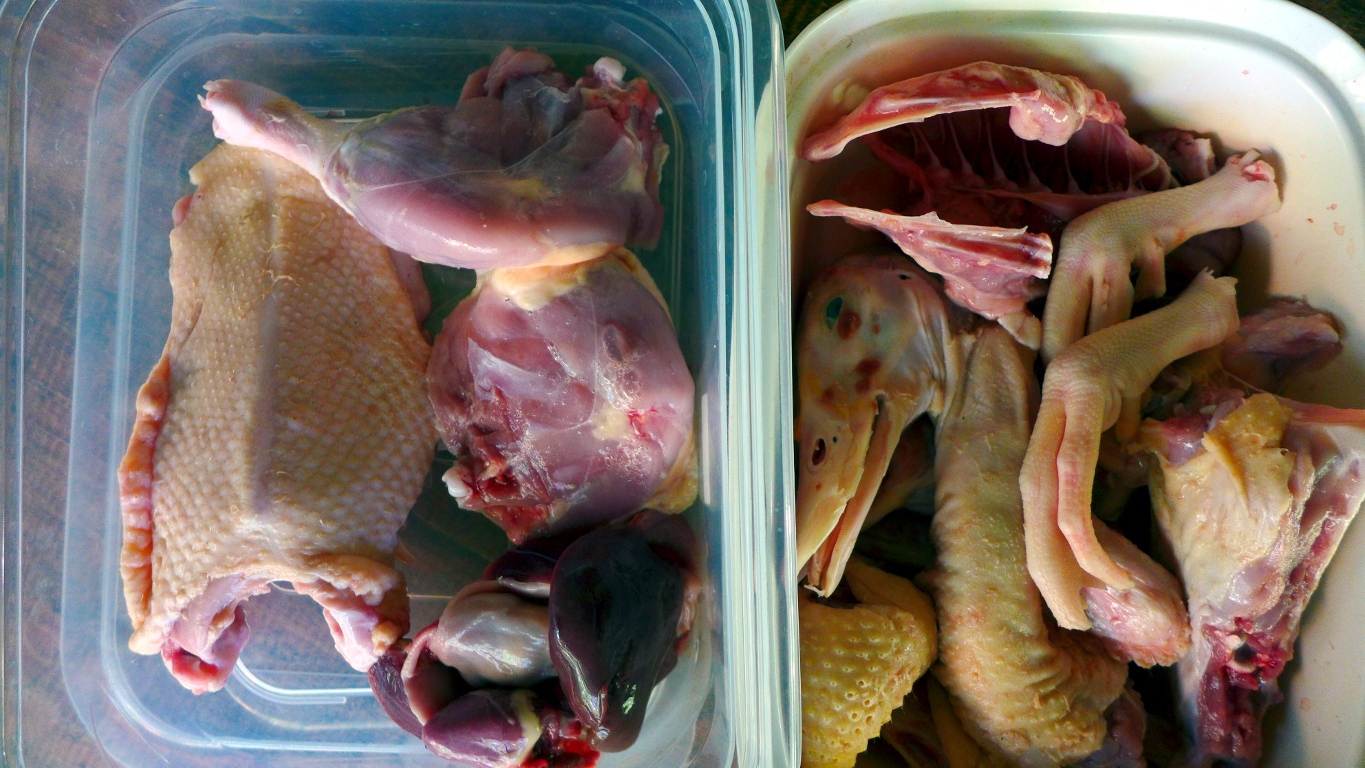 For today, I decided to deal with the bones and trimmings. The cats think that's a much better idea too! The duck is not very large, a dressed weight of 1.3kg, so it will not render a lot of fat. So I thought that I can probably use the meat for confit later and, for today – the bones, skin, fat and trimmings for spring rolls and broth.
The process is simple: put the bones, fat and trimmings into a pot and heat up, simmer, boil in its own fat and juices, brown it then add water (not too much) and seasonings. My choice of seasoning is salt, pepper and 5-spice powder. Let this cook for a while until the meat is soft and can be easily removed from the bones.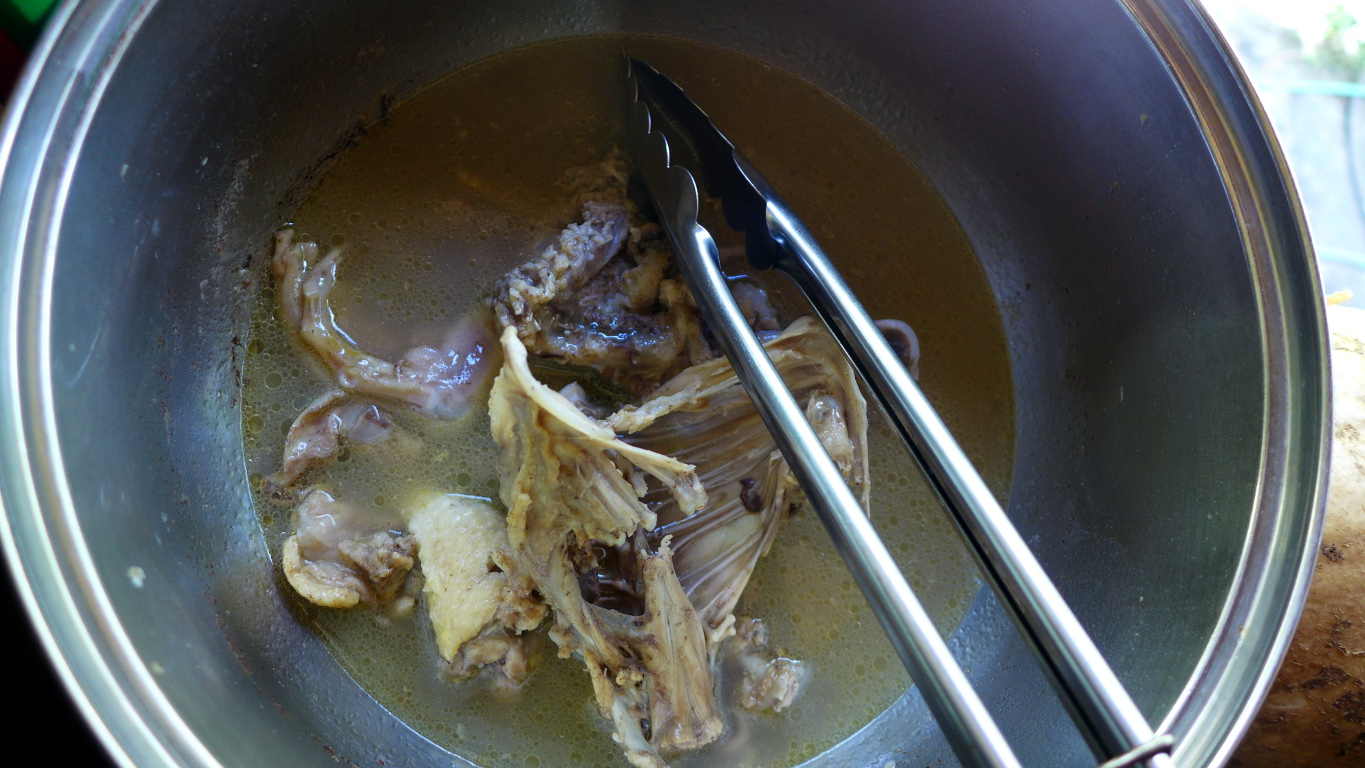 Let this cool for a bit then start separating the meat from the bones (cats are waiting…).  Shred the meat up, you may or may not wish to include the skins. Here's what I got from my bones and trimmings – the bones on one side and the shredded meat on the other side.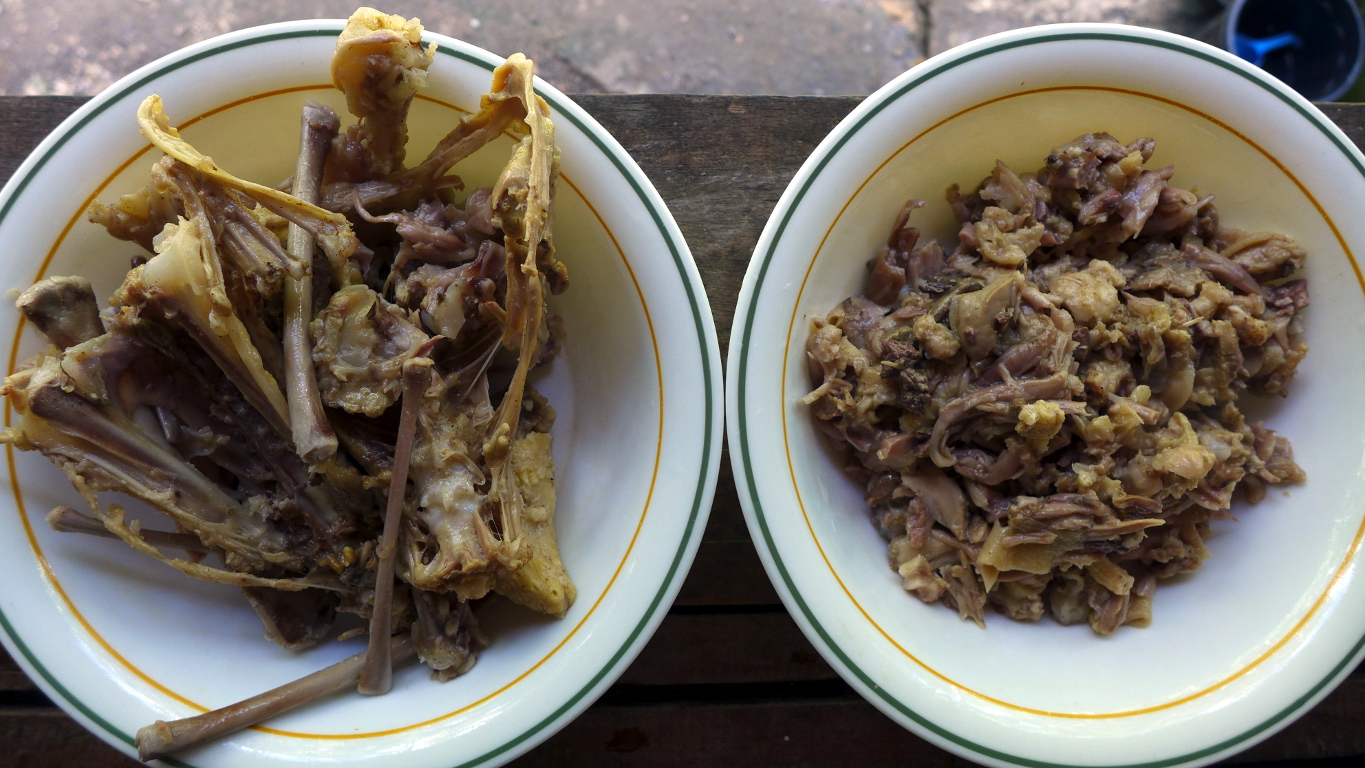 Now that the cats are busy eating, I can start cooking. I have prepared some onion, garlic, chopped carrots and cabbage. The rice paper for the spring rolls are ready too. I use these Vietnamese rice paper. When your ingredients are ready and you're ready to roll, you can prepare the rice paper. You don't cook this rice paper. You just soften it by putting a damp towel over it until it is soft enough to roll. This type of rice paper is eaten fresh! I love this because sometimes I'm too lazy to fry stuff … ?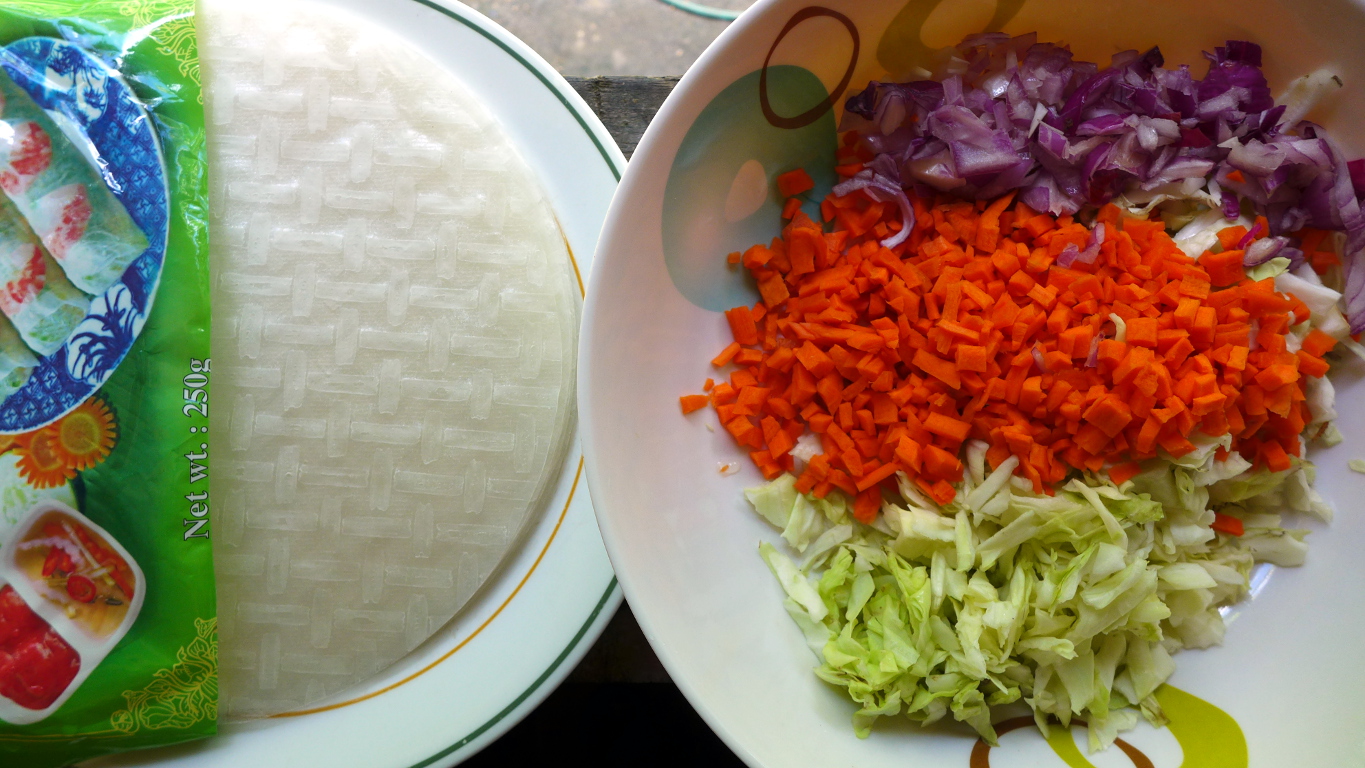 Here, I've put duck and veggies together and cooked, seasoned, added a bit of the broth, and let it cool down a bit before attempting to start rolling!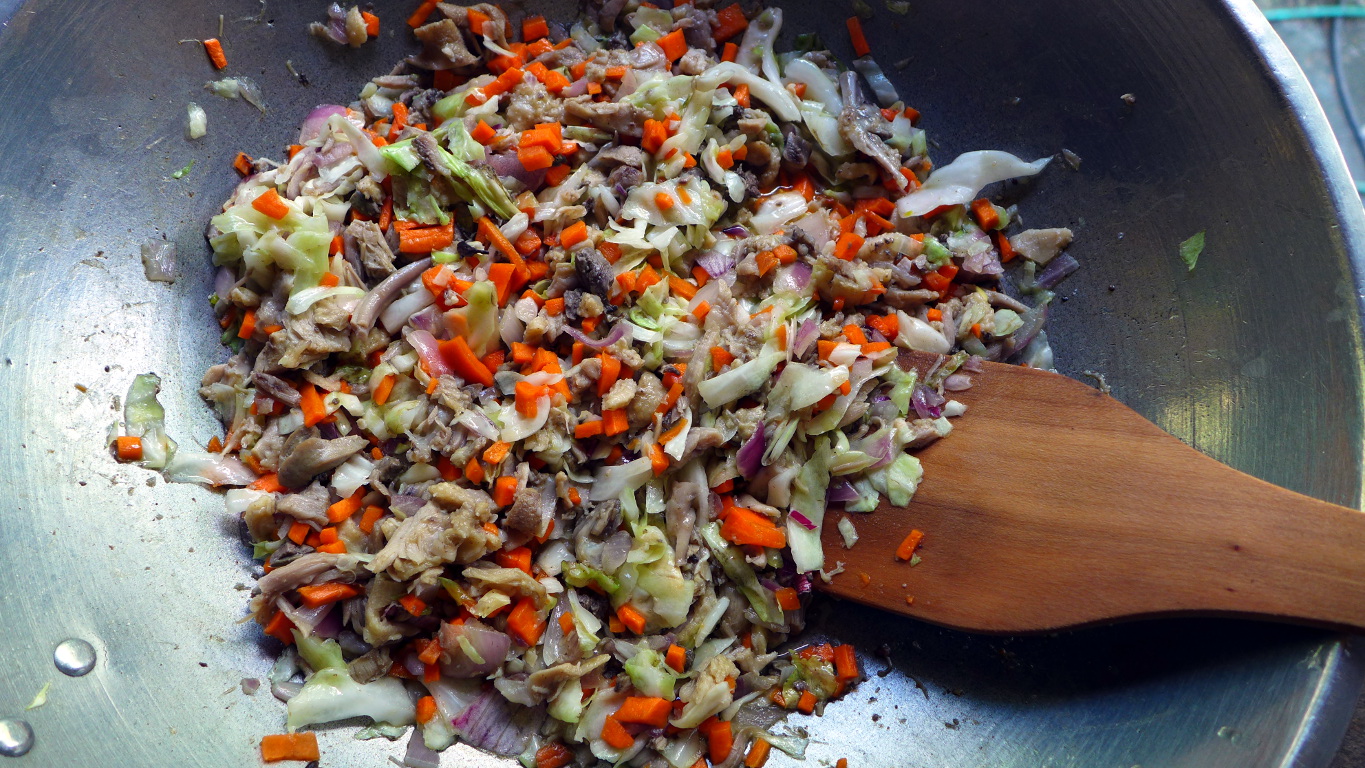 And here are my finished duck spring rolls!!! Served with Hoisin sauce! Now these are two ingredients you shouldn't skip in the preparation of this dish: the 5-Spice powder and the Hoisin Sauce. Those two make such an enormous difference in the taste, flavour of this duck dish.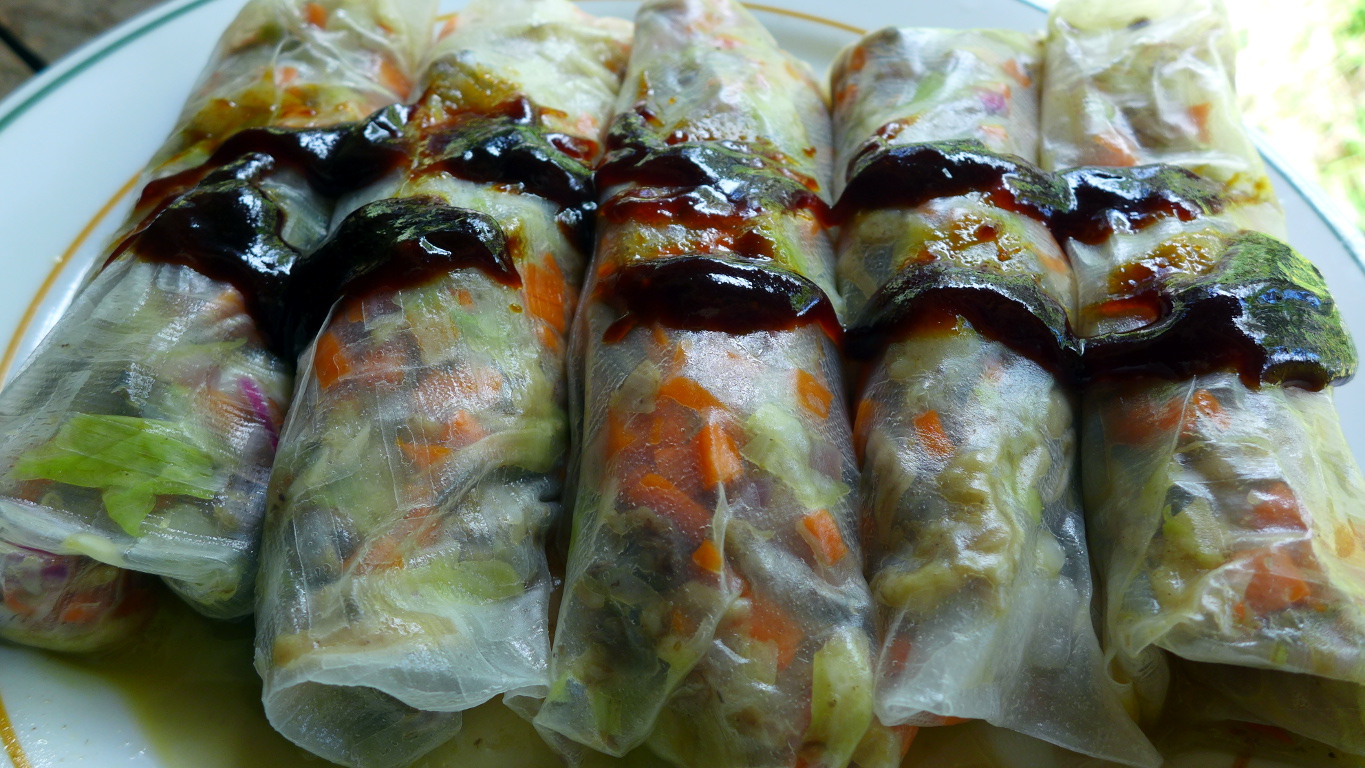 And here's the spring rolls served with a salad of home-grown singkamas (jicama). I was surprised how well these went together!!! I think that's because Vietnamese spring rolls (duck or vermicelli or other) are often served with a dipping of sweet vinegar, and the vinegar dressing in the salad just partnered perfectly with these spring rolls. PLUS the crunch of the singkamas compliments the softness of the rice paper – fantastic!
Bon appétit! ?